Diesen Sommer haben wir es tatsächlich geschafft uns zu einem Picknick zu verabreden! Ich habe mehrere neue Regency-Kleider genäht und so haben meine Schwester und ich ein neues Ensemble getragen!
This summer we had the chance to be part in a picnic! I had the time to sew new regency ensembles so my sister and I wore new dresses!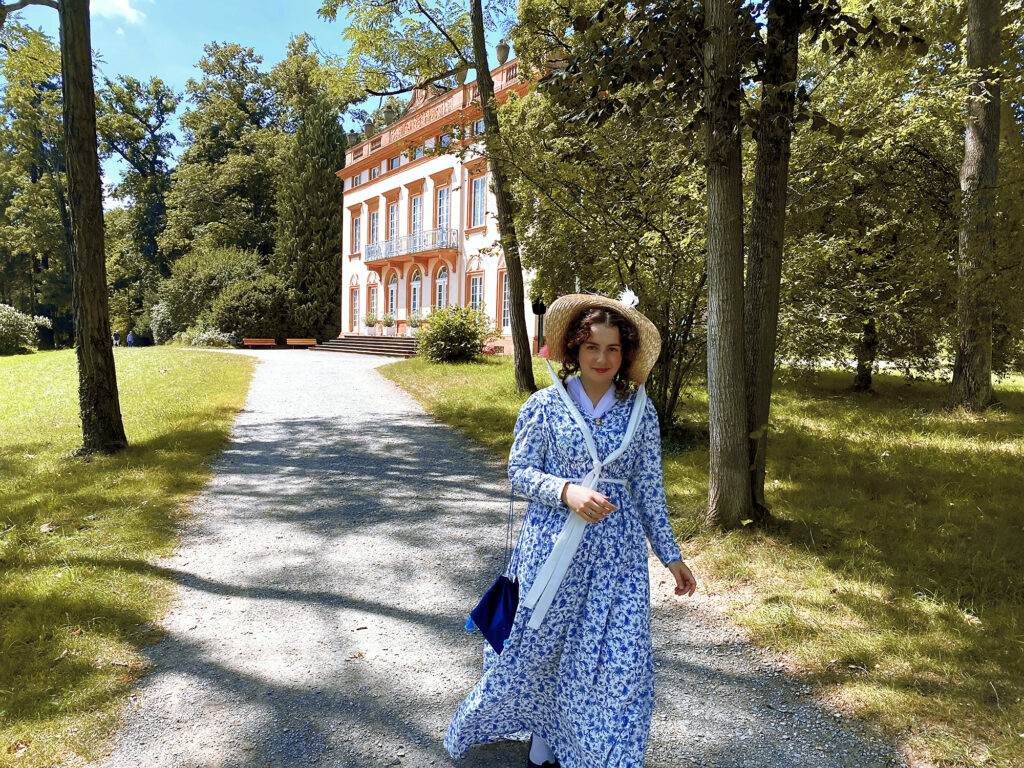 Mein Kleid ist aus blau-geblümten Voile, einem wunderbar leicht fallendem Stoff. Dazu ein Strohhut (gekauft und leicht verändert) ala Marianne Dashwood mit ordentlich Federdekor und ein Retikül aus dunkelblauem Samt (passend zu meinem Samtspencer, der bei kühlerem Wetter auch dabei gewesen wäre). Meine Schuhe sind auch neu, moderne Ballerina, die ich mit einem Püschel versucht habe etwas Regency-tauglicher zu machen.
Außerdem trage ich zum ersten Mal meine selbstgemachten Haarteile.
My dress was out of a blue-flowered voile-fabric together with a straw hat (I had bought it and made some changes to get another shape) ala Marianne Dashwood with a lot of feather decoration and a matching blue velvet retikul. (I also had my blue velvet spencer with me, but it was too warm for it!) I also had new shoes: black leather balerina decorated with some selfmade pom poms. And I used the chance to wear my new hair pieces!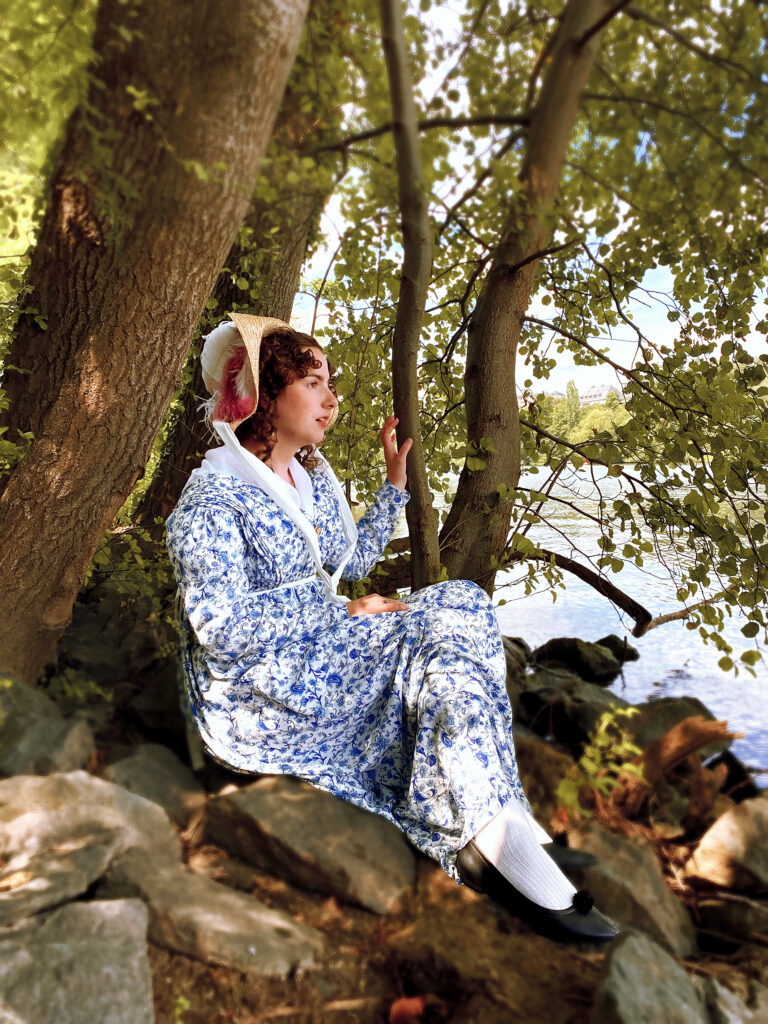 Mein zweites Kleid wurde von meiner Schwester getragen. Ein Baumwollstoff mit kleinen Zitronen darauf (vielleicht nicht 100% A – dafür von weitem dennoch passend wie ich finde…). Dazu meine neu gemachte Schute und ein von ihr selbstgenähtes Retikül aus gelber Baumwolle. Passend dazu hatte ich auch einen Spencer gefertigt, der leider nicht fotografiert wurde.
My sisters dress was made out of a cotton fabric with a lemon print (not authentic but I think it fits very good in this time). The bonnet was made by me out of an old straw hat, combined with a yellow reticul. There is also a matching yellow spencer made for this outfit, but it was to warm to make photos with it!