Der Ball auf der diesjährigen Sommerfrische stand unter dem Motto "Mary & Jane" (anlässlich des Jubiläums von Mary Shelleys "Frankenstein" und Jane Austens 200. Todestag im Vorjahr). Folglich war der ganze Ball zeitlich im Rahmen des späten Rokoko, über Directoire und Regency hin bis zu Biedermeier.
The ball of the "Sommerfrische" had the motto "Mary & Jane" (on the occasion of the anniversary of Mary Shelleys "Frankenstein" and Jane Austens anniversary of death last year). So the dress code was between late rococo and biedermeier including directoire and regency.

Es war ein großartiger Ball – wir hatten alle so viel Spaß und haben eigentlich ununterbrochen getanzt. Obwohl ich noch nie zuvor einen historischen Tanz getanzt habe, war es nach einigen Übungen relativ einfach und obwohl man so konzentriert sein musste und es körperlich teilweise echt anstrengend war, war es wirklich wunderschön.
It was a great ball – we all had so much fun and danced nearly the whole time! I had never been to a historical ball and historical dancing was so new for me. I had to learn all the steps and and had to remember them all the time, but it was so beautiful and all the other dancers helped each other…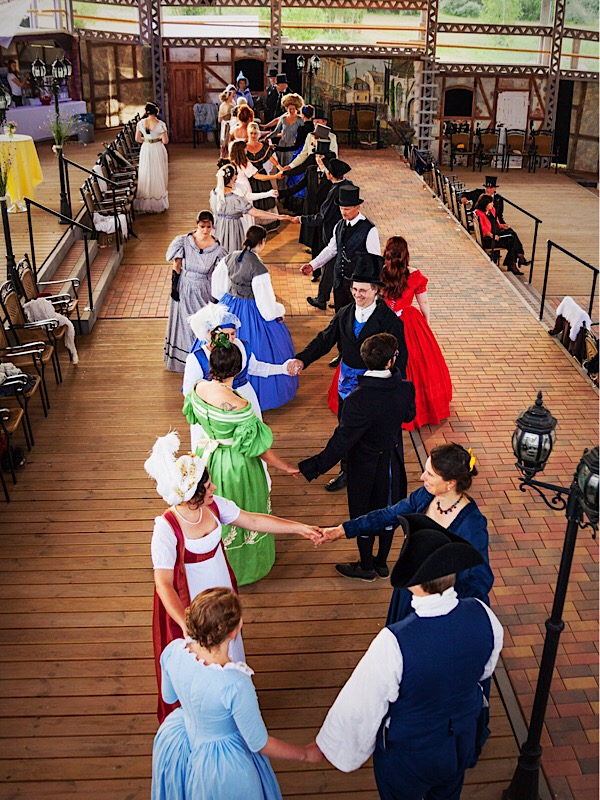 Ich habe mein cremefarbenes Empire-Kleid getragen, welches ich eigens für den Ball genäht hatte. Dazu meinen blauen Samtspencer, den ich allerdings zum Tanzen nicht mehr anhatte, weil er einfach viel zu warm gewesen wäre. Das Kleid war sehr bequem, aber mit der Schleppe musste man bei Rückschritten immer acht geben, da hätte ich sie lieber raffen sollen.
I wore my creme empiredress, that I had sewn just for the ball. With that I had my new blue velvet spencer – I had to take it off while dancing, because that would have been to hot! The dress was very comfortable, I just had to take care with the train to not step on it while dancing – maybe I should fix that for the next ball…